This phase is dedicated to the characterization, validation, and optimization of the different concrete mixtures by performing concrete characterization on molded concrete cylinders. Evaluation of mixtures is usually done under controlled laboratory conditions, and then at the batch plant to be used during the construction.
Laboratory Validation
The concrete under study is first produced in SIMCO Middle East's laboratory under controlled conditions. The objective is to optimize constituent proportions and dosages of candidate admixtures in order to obtain cost-effective and compliant concrete mixtures. Tests are performed to characterize the properties of fresh and hardened concrete. At this stage, the concrete's durability characteristics are also verified.
For each concrete mixture, a test program is elaborated and results provide input parameters for STADIUM® service-life modeling to be performed subsequently.
Pre-Production Validation
Once the laboratory validation is completed, a short list of candidate mixtures is identified. Each of these mixtures can be produced and sampled at the concrete production plant using a full-scale production unit. Samples are then tested for a complete characterization of hardened concrete using its STADIUM® durability evaluation software tool. This step is important to verify that the concrete plant can produce all selected mixtures with the proper properties. Production variability is also assessed and documented.
At the request of the client, it is possible to proceed with the laboratory and pre-production testing at the same time. The overall testing time can be considerably reduced for a mixture that theoretically meets the requirements. This option usually requires more pre-production validation test runs, but it saves time on the schedule.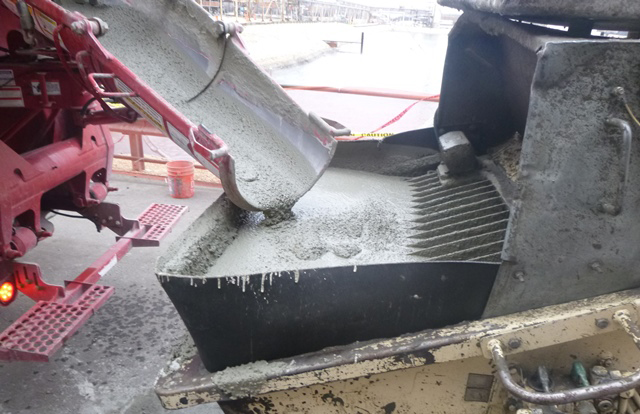 Services for New Construction:
Specification Assistance
Concrete Mix Design & Evaluation
Material Selection
Concrete Mix Optimization
Industry-Leading Service-Life Prediction Tools
SIMCO's expertise in the major parameters that govern the deterioration process has led to the development of innovative infrastructure evaluation techniques, including the STADIUM® suite of service-life prediction software tools. A specialized version of the software has been created for the unique environment in the Middle East – which factors in both local conditions and materials to provide advanced service-life modeling and prediction