Durability Design for New Construction
When major new infrastructure projects have extended service life requirements, designers and owners of large critical infrastructure projects worldwide look to SIMCO. Our team's durability design experience and analytical tools give owners and designers the confidence that designs will meet demanding service life requirements when needed. See our profile projects from around the world as examples of our consulting team's work.
SIMCO has a wide range of consulting services that assist in the design, characterization and optimization of concrete mixtures for major concrete infrastructure projects. Scope for such projects can include any or all the items below:
Analysis of specifications and technical documents
Characterization of different concrete mixtures for the preparation of concrete submittal documents
Guidance on the selection of materials for the production of economical and durable concrete mixtures
Optimization of concrete mixture proportions to ensure the specified service life is achieved
SIMCO performs mixture designs while always taking into account constraints imposed by natural exposure conditions or associated to particular issues related to the production and construction activities of each specific project.
The optimization of different concrete mixtures is usually performed to ensure they meet the specific requirements listed in the specifications.
The service-life evaluation is conducted while considering the requirements of the client based on the exposure conditions. Thus, for a structure in a corrosive environment, the number of years before corrosion initiation and number of years for propagation are considered.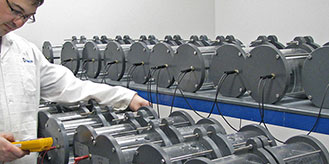 SIMCO's proposed methodology is divided into three major phases:
The first phase consists in a theoretical study of concrete mixtures performed during the design phase of the project. During this phase, SIMCO will analyze or propose a series of mixture designs using currently available data on the properties of the materials likely to be used for the production of different concrete elements.
The second phase is focused on the characterization, validation/qualification and optimization of the different concrete mixtures, first in the laboratory and then at the selected concrete batch plants. Initially, small volumes of concrete are batched in SIMCO Middle East's laboratory and tested to fully characterize each candidate mixture. The optimization of concrete mixtures is usually done using materials provided by the client.
Finally, the third phase consists in the quality control/quality assurance during construction.
It is important to note that SIMCO's methodology is flexible and scalable depending on the specific requirements of a given project.
Phases are independent and complementary as they each bring additional information that increases the level of certainty on the performance and durability of the concrete mixtures.